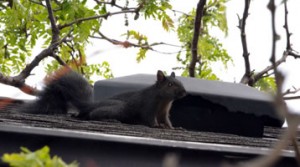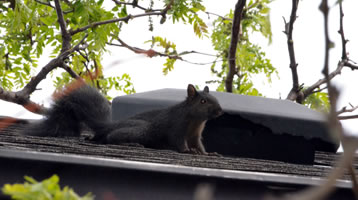 These acrobats of the trees and roof tops can be found racing through the tree tops chasing one another in a comical manner. Or digging through your prized flower beds after bulbs or "planting" nuts for meals later in the season.
Nests in trees are easily located late into the Fall and Winter months when all of the leaves have fallen. At Halton Region Pest Control we are more than happy to leave them there – this is where they belong in the trees. Problems develop when they decide to gain entry into our Homes into the attic space through the roof vents or eave openings.
Their young, 2 – 3 litters per season with each litter having between 4-6 kits. Born as early as late January, the young quickly mature and eventually leave the 'nesting' area. Mom will reuse her original site protecting it from all other squirrels.
The Fish and Wildlife Act restricts the trapping and removal of all fur-bearing animals from any site with a release range of 1 Km. Only licenced trappers (registered by the Ministry of Natural Resources) are allowed to trap and remove outside the release area. These restrictions are further enforced during the periods when females are likely to have young kits.
As with all fur-bearing animals' squirrels with babies must be removed with all consideration to the health and well-being of the young. Baby squirrels are located and removed to a 'warming' box which is then placed in a location where the mother can locate them, but is inaccessible to predators.
It is highly recommended that female squirrels with babies be approached by the trained professionals at Halton Region Pest Control. Highly aggressive female squirrels protecting their young have been known to jump from roof tops and trees to attack Wildlife Professionals.
Our trained Service Technicians will provide a full on-site inspection and make recommendations on how best to remove the squirrel(s) and secure your home from future intrusion.
Call our office as soon as you suspect your home has an unwarranted tenant. Waiting for them to leave only makes it more difficult to prevent further intrusion and damage to your property.