Bandits are extremely self preserving and adaptable.
Within the urban setting their "home" will vary from a crawl space under a shed or deck to the attic space of your house.
Their young, generally 4-6 kits, are born between late January and March. The young will remain with their mother until late Fall when she will eventually abandon them.
The Fish and Wildlife Act restricts the trapping and removal of all fur-bearing animals from any site with a release range of 1 Km. Only licenced trappers (registered by the Ministry of Natural Resources) are allowed to trap and remove outside the release area. These restrictions are further enforced during the periods when females are likely to have young kits.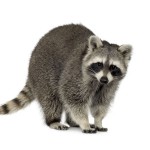 Raccoons with young must be removed with all consideration to the health and well-being of the young. Baby raccoons are located and removed to a 'warming' box which is then placed in a location where the mother can locate them, but is inaccessible to predators.
Our trained Service Technicians will provide a full on-site inspection and make recommendations on how best to remove the raccoon(s) and secure your home from future intrusion.It is highly recommended that female raccoons with babies be approached by the trained professionals at Halton Region Pest Control.