The Common House mouse is by far one of the top ten most damaging pests known to man. Primary because of the damage they cause to our food supply, both in the field and in finished format. Why is this – very simply they are nibblers. Damaging all the bags of flour while eating very little from each one.
Unfortunately many people believe that the one or two mice they catch under their sink are all they have, the ones that "just come in the winter". This could not be further from the truth – the majority of them are living in all of the quite spaces of your house and going in and out gathering food from the bird feeder, (the one you are enjoying watching the birds at, see Birds: Removal and Exclusion) or the seeds off your perennials.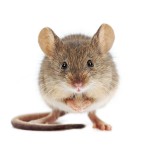 New changes to the use of Rodenticides by both Professionals and home-owners, (changes effective December 31, 2012), are designed to make the placement of baits in both commercial and residential situations safer for everyone. Pest Management Professional have been following many of these regulations for some time now – the intent is to protect the home owner (sometimes from themselves).
Let's take a good look at what we are talking about – same mouse problem two different scenarios:
In house #1 – we have your typical DIY kind of family saving their money by doing things themselves – they even go on-line to read the latest on how to kill those nasty nocturnal pests. They purchase bait, legally, from their local hardware store and place the poison everywhere they see evidence or hear mice running. The drop ceiling, behind the furnace, in the pool shed – all loose since they have no pets or young children that could be exposed, sound familiar? Then they decide to sell their house and the new owner, with small children and a frisky Golden Lab, decides to remove the drop ceiling and down falls the loose bait and the dog gets hold of it. Worst case it eats the bait, best case it doesn't die. Guaranteed though – the 'Old' owner will be sued by the 'New' owner and fined by the Ministry of the Environment for improper storage and failure to comply with label directions.
House #2 – Called Halton Region Pest Control and our Pest Management Professionals took care of the mouse infestation safely, followed with a solid guarantee.
We care about you largest investment and safeguarding your home. Contact us to book an appointment today.