Insect DEFEND Patch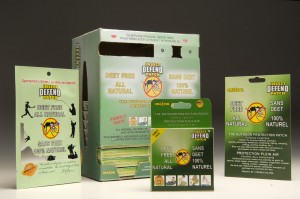 Just one small Insect DEFEND Patch, applied discreetly on any hairless area of the body creates an invisible virtually impenetrable shield against the ill effects of mosquitoes and the diseases they may carry. Within two hours of application these annoying creatures will know that you're off limits and will quickly move on and leave you alone! The protection effect last up to 24 hours – even during hot and humid weather!
DEFEND is a topically applied Thiamine (Vitamin B1) patch that actually protects against mosquitoes and other biting insects!
It is 100% safe and harmless, yet so effective it keeps mosquitoes and other blood-sucking insects away for up to 24 hours! Thousands of people nationwide get infected with the dreaded West Nile Virus and related illnesses each year… don't be one of them!
Convenient – Use it anytime anywhere
The anti-inflammatory agent in thiamine inhibits allergic reactions to insect bites
VERY EFFECTIVE, EASILY APPLIED AND SAFE ALTERNATIVE TO INSECT REPELLENT
REAL PROTECTION FOR CHILDREN (12 YEAR AND OLDER) AND ADULTS AGAINST MOSQUITOES AND OTHER BITING INSECTS FOR UP TO 24HOURS!
DISCREETLY AND QUICKLY APPLY ONE PATCH TO A HAIRLESS AREA OF YOUR BODY & STOP WORRYING. YOU'RE PROTECTED WITHOUT DEALING WITH THE UNCERTAIN APPLICATION AND INEFFECTIVENESS OF SPRAYS, LOTIONS AND CREAMS
WILL NOT LOSE EFFECTIVENESS IN WATER EVEN AFTER OR WHILE SHOWERING OR SWIMMING
NON-GREASY, TOTALLY UNDETECTABLE WHEN WORN BENEATH CLOTHING AND IS BOTH APPLIED AND REMOVED IN SECONDS.